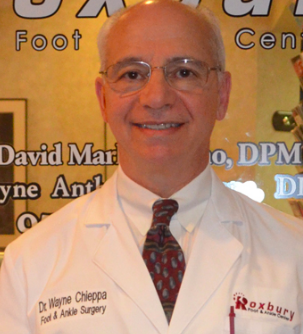 Address:
Roxbury Foot & Ankle Center
Roxbury Mall
66 Town Centre, Suite 405
Succasunna, NJ 07876
Dr. Wayne Anthony Chieppa goes beyond the scope of your problem to get you back on your feet. Whether you want to comfortably return to your job, get back on the playing field or simply enjoy a long stroll without pain, he can help. Armed with specialized treatment plans, he can give you quick solutions, improved function and lasting results. He will also take the time to educate you on how to take better care of your feet to prevent a recurrence of symptoms. His genuine concern for your overall health brings a speedy recovery and freedom from pain.